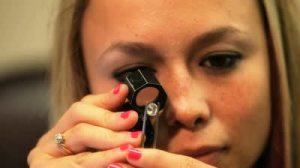 Let's face it, you have you barber or stylist and your favorite local pizza joint but do you have a jeweler that you can call and trust? Unfortunately, today, many retailers mark up prices just to reduce them or curb their answers to make it sound like you are getting a better deal than you really are. With engagement rings averaging closer to $6,000, you should absolutely do your homework not only on the ring, but also on your jeweler. Before you make any purchases you should ask these 8 questions to ensure your jeweler is a reliable one:
1. If I buy a diamond from you, do you guarantee that it will receive the same grade if I send it to any lab, including the GIA or the AGS? We have found many labs to be wildly inconsistent, sometimes over-grading a diamond by 5 to 6 grades. There are Jewelers who use this grey area to make unrealistic claims about the value they are offering. If the answer they give you is, "Well, we have a money back guarantee" or "even the GIA can grade it differently," that demonstrates they are not confident in their offering and you should seek another Jeweler.
2. Do you guarantee the craftsmanship of your products beyond the return privilege or do I have to buy the warranty? Many Jewelers use extended service plans to boost their bottom line. Often, these plans include unusual use or abuse disclaimers that allow them to determine what they will or will not cover even after the customer has paid extra. In general, Jewelers who focus on selling extended plans should be avoided.
3. Do you have an accredited laboratory to handle appraisal and gem identification work? As an AGS (American Gem Society) Jeweler, we submit to annual re-certification to insure that our equipment and
associates are up to standard. If a Jeweler needs an outside company to do appraisal work for them, you should question their ability to properly recommend or insure that the item you're buying meets the specifications that the manufacturer has stated.
4. Can I see my diamond or gemstone under a loupe or a Gem Scope? If the jeweler gives you a hard time, they should be avoided. No Jeweler or gemologist would ever buy a piece of fine jewelry without inspecting it under 10X magnification. We inspect the match and consistency of the gemstones as well as the quality of the prong work.
5. Have you ever sold this product at the price shown on the tag? (If you are receiving a % off discount.) Unfortunately, the oldest trick in the book is to mark up a product only to mark it down later. The AGS considers this form of advertising to be less than honest and note in the best interest of the consumer or industry.
6. If my jewelry needs to be serviced, where do you send it? Many jewelers use trade shops that are out of state, which requires extra time and circumvents any quality control procedures. Our certified master goldsmiths perform all our repairs on premise.
7. If I want to upgrade m diamond, how much more will i have to spend? Many jewelers require you to double the purchase price. Our Love for Life Guarantee allows you to exchange your diamond engagement ring at any time with no upgrade required. In the future, if you wish to trade in your solitaire diamond earrings or the diamond in your engagement ring, Michaels Jewelers requires you to spend only 50% more.
8. Are all of your Rubies, Emeralds and Sapphires natural? Several of the national chains have gone strictly to lab created stones and often the sales associate forgets to disclose the major difference. It is our opinion that full disclosure on any and all treatments is the only way to operate. This would be particularly true with gemstones that are grown in a laboratory.
If you have any hesitations about purchasing a piece of jewelry, visit any one of Michaels' 10 locations where our professionals have the tools and experience to help guide you through any questions you may have.